70-Year-Old Woman Runs 7 Marathons On 7 Continents In 7 Days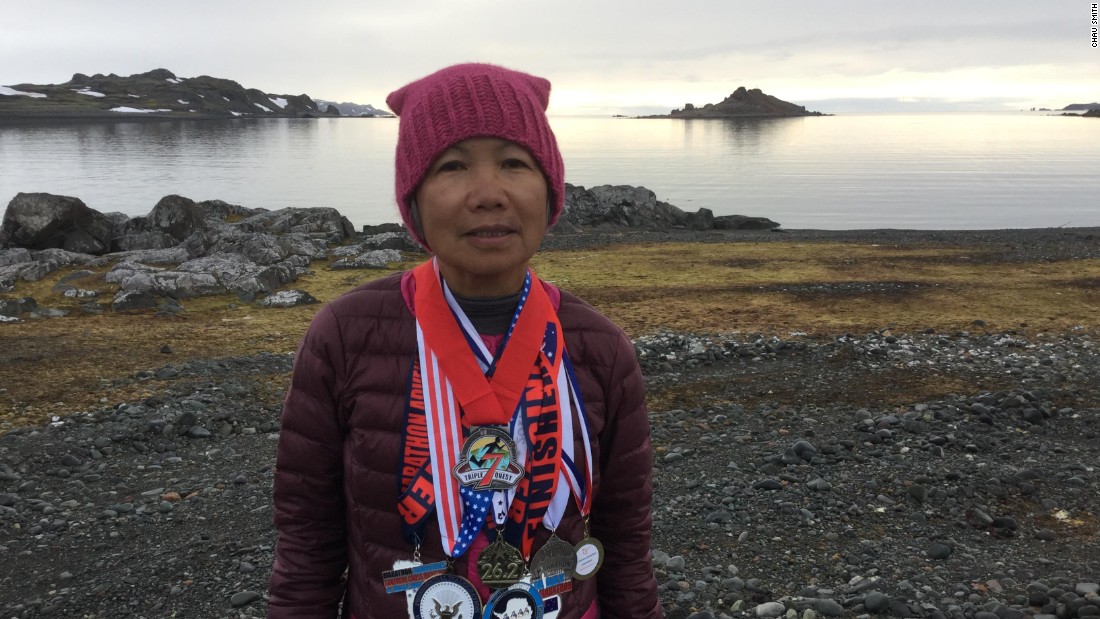 (CNN)Running four marathons in five weeks wasn't enough. Running 10 marathons in a year wasn't enough. Running more than 70 marathons during her lifetime wasn't enough.
Seventy-year-old Chau Smith wanted to challenge herself even further, so she decided to run seven marathons in seven days on seven continents. In January, the Missouri woman accomplished that goal.
Between January 25 and January 31, Smith ran marathons in Perth, Australia; Singapore; Cairo; Amsterdam; Garden City, New York; Punta Arenas, Chile; and King George Island, Antarctica. Each day, Smith woke up and ran 26.2 miles. Then she'd get on a plane and fly to the next destination to do it all over again.
"All my life … I always did crazy things," Smith said. "When I was young in Vietnam, I was a stubborn kid. My family always never knew what I was going to do. I always showed them I can do it, just like boys."
Smith started running marathons in Missouri but quickly sought out races in other states and countries. She ran the Boston Marathon in 2013 but was unable to finish the race because of the
bombing
. She ran it the next two years.
Last year, Smith ran four marathons in five weeks. She traveled to Southeast Asia for a month and ran a marathon in Myanmar. Six days later, she ran a marathon in New Zealand and then a few days after that in Tanzania.
"We never go someplace without looking for the race," Smith said.
Born in Vietnam, Smith came to the United States in 1972. She owns and operates an alteration and dry-cleaning business in Independence, Missouri. Even though she works long days, running always makes her feel better.
"I live a stressful life. Every day, I work 10 hours a day … but I always feel better," Smith said. "How I feel after I put in my running, I think that's important. It makes you feel good. I can't really put it into words."
Smith often runs with her husband, who has also been running for most of his life. When she brought up the idea of completing the Triple 7 Quest, he was supportive, but worried about her health. Her two adult daughters expressed similar concerns.
"When I told my husband, he said, 'Well, I support you, and I'm always behind you, but the only thing I worry, you get hurt,' " Smith said.
Smith told all three that if she anything happens to her while she's doing something she loves, it would be worth it.
Hibbs has organized only two Triple 7 Quest trips, and he's planning a Triple 8 Quest for the upcoming year involving Zealandia, a microcontinent. He believes these longer challenges can test all aspects of a person's being.
"It's really about challenging both the body and the mind's upper limits," he said. "What can you handle? What upper threshold can you push past?"
For Smith, it seems no challenge is too small. When she retires, she'd like to hike the Appalachian Trail. For now, she's interested in the Triple 8 Quest.
Read more: http://www.cnn.com/2017/03/15/health/70-year-old-marathon-seven-continents/index.html